Matthew Jones
---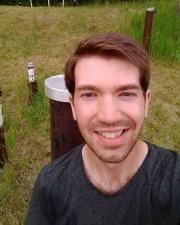 Education
—
B.A., University of Minnesota, Morris
Research
—
Matthew's research focuses on understanding how water moves between surface water and groundwater sources. His work has long-term implications for the understanding and protection of groundwater resources.
He is helping to develop the cutting-edge Stream Bed Point Velocity Probe, which is a novel probe to accurately measure groundwater velocity, and he is using it to characterize the hydraulic connection between a crude-oil contaminated aquifer and a small lake in north-central Minnesota. Matt's work is a vital contribution to an inter-disciplinary, multi-decadal research project led by the United States Geological Survey at the National Crude Oil Spill Fate and Natural Attenuation Research Site near Bemidji, MN.
Selected Presentations
—
2019
"Quantifying Groundwater Flow through a Lake Bed Down-Gradient from a Decades-Old Oil Spill near Bemidji, Minnesota." Geological Society of America Annual Meeting. September 22. Oral.
2014
"The Application GPS and GIS to map volcanic fields and define magmatic histories around Mt. McLoughlin, Oregon." Geological Society of America Northeastern Section Meeting. March 23. Poster.
Awards & Honors
—
2019
Joseph Minton Patterson Scholarship
Frederick T. Holden Scholarship
2009
Eagle Scout Rank