Dr. Alison Olcott
---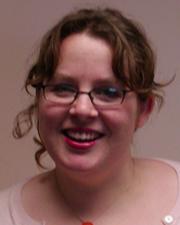 Associate Professor and Director of the Center for Undergraduate Research
Contact Info
Slawson Hall, Room 270C
1420 Naismith Dr
Lawrence, KS 66045
Strong Hall, Room 156
1246 W Campus Rd
Lawrence, KS 66045
---
Research
—
I am an astrobiologist and chemical paleontologist who researches how chemical traces of life can be preserved across geological time, allowing an understanding of biological and environmental processes in places and times that do not preserve more traditional types of fossils, which in turn allows a better understanding of ancient environments and climates, both on Earth and beyond. I also research how the geosciences can be more diverse and equitable, focusing on the LGBTQ+ experience in the geosciences and other field-based sciences, including what needs to be changed to make fieldwork more accessible for all, and how high impact educational processes can be integrated into STEM classes to improve student learning, success, and retention, particularly for students from populations that are traditionally underrepresented in STEM fields.
Research interests:
Organic geochemistry
Paleobiology
Chemical Paleontology
Early life
Precambrian
Biomarkers
Fossil preservation
Paleontology
Teaching
—
My teaching focuses on preparing students to find, evaluate, and apply ideas and information with an awareness of their disciplinary and global context. My teaching specialties are interdisciplinary science classes aimed at non-majors and upper-level classes poised at the intersection of chemistry, biology, and geology, with additional expertise in curriculum development and program assessment.
Selected Publications
—
Olcott, A. (2017). OLCOTT, ALISON. Case Study: Flipping a Paleontology Class for Non-Majors. The Flipped College Classroom: Conceptualized and Re-Conceptualized. Springer Books.
Olcott, A. (2017). OLCOTT, ALISON. Exploring Mars: A science-focused First Year Seminar for non-science majors. Case Studies on High-Impact Practices in First Year Seminars. National Resource Center for the First-Year Experience and Students in Transition.
Olcott, A. (2016). Teaching through Human-Driven Extinctions and Climate Change: Adding Civic Engagement to an Introductory Geology Course for Non-Majors. International Journal of Science Education and Civic Engagement.
Olcott, A. (2014). Reexamination of microspore contents in Pennsylvanian spores and pollen grains. Review of Palaeobotany and Palynology - Volume 210.