Dr. Andreas Möller
---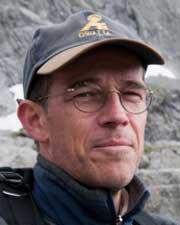 Chair of Graduate Admission for Geology
Biography
—
Undergraduate and graduate education in geology/paleontology and mineralogy at the universities of Hamburg and Kiel (Germany). Post-doctoral research and teaching fellow positions in Sydney, Mainz and Potsdam. Native of northern Germany (Schleswig-Holstein, the home state of Eutin, the sister city of Lawrence, KS).
Research
—
Dr. Möller and his students use geochronology and thermobarometry to study the history of ancient mountain belts, and the source regions and deposition ages of sediments. Google scholar profile: https://scholar.google.de/citations?user=PCgPcVsAAAAJ&hl=en
Research interests:
Geochronology
Metamorphic Petrology
Chronostratigraphy
Isotope Geochemistry
Teaching
—
I teach introductory geology, igneous and metamorphic petrology, geochronology, several lab-based graduate level classes for the laser-ablation ICP-MS laboratory I direct, and independent studies for undergraduate research. I co-teach the geochemistry and tectonics seminar and the KU Geology Field Camp.
Teaching interests:
Petrology
Geochronology
The Way the Earth Works
Earth History
Field Camp
Selected Publications
—
Moeller, A. (2019). Moeller, Andreas. Chronostratigraphy and Terrestrial Palaeoclimatology of Berriasian-Hauterivian Strata of the Cedar Mountain Formation, Utah, USA. Cretaceous Climate Events and Short-Term Sea-Level Changes (eds.: M. Wagreich, M. B. Hart, B. Sames and I. O. Yilmaz). Geological Society London Special Publications.
Selected Presentations
—
A new approach to date paleosols in terrestrial strata: a case study using U-Pb zircon ages for the Yellow Cat Member of the Cedar Mountain Formation of eastern Utah - GSA Annual Meeting. Location: Baltimore, USA. (11-01-2015).
A major Proterozoic terrane boundary in North America: combined O2 - Lu/Hf - U/Pb analyses on magmatic zircon - GSA Annual Meeting. Location: Seattle, WA (USA). (10-22-2017).
Service
—
Dr. Möller is Associate Editor for MINERALOGY and PETROLOGY, he has been providing peer-reviews for more than 20 scientific journals and more than 10 different funding and scholarship agencies.