Dr. David A Fowle
---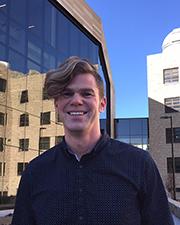 Chair, Department of Geology
Contact Info
Ritchie Hall, room #254C

Slawson Hall, room #170 E

---
Biography
—
Dr. Fowle joined the University of Kansas in 2006. He has an active research program that investigates the how microorganisms influence geochemical cycles with a particular emphasis on quantifying their effects in experimental systems. He currently serves as the Chair of the Geology Department.
Research
—
Dr. Fowle's work investigates the links between microorganisms and geochemical processes in the field and the laboratory with applications to our understanding of the rock record, remediation, energy and mineral exploration.
Research interests:
Mineral exploration, environment, geochemistry, lakes, geomicrobiology, early diagenesis,
Teaching
—
Teaching interests:
Biogeochemistry
Aqueous Geochemistry
Limnology
Lakes
Environment
Mining
Selected Publications
—
Fowle, D. (2011). Methanotroph-promoted weathering of Cu-substituted borosilicate glass. Geomicrobiology Journal - Volume 28.