Luis A González
---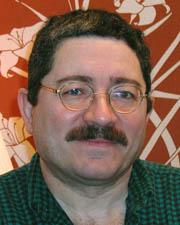 Natural Sciences and Mathematics
Contact Info
Lindley Hall, room #120/116
Multidisciplinary Research Building
University of Kansas
1475 Jayhawk Boulevard
Lawrence, KS 66045
---
Research
—
A significant portion of my current research emphasizes the utilization of the isotopic composition, mineralogy, growth history and growth patterns of speleothems (cave formations such as stalagmites, stalactites, and flowstone) to extract paleoclimatic and paleoenvironmental signals. Research has been conducted in the North American Midwest (Iowa, Illinois, Missouri, Minnesota, and Wisconsin), Asia (Vietnam and Nepal), and the Caribbean (Jamaica, Puerto Rico). Current research efforts focus on northern South America.
Research interests:
Paleoclimate
Isotope Geochemistry
Carbonate Petrography
Speleothems
Stable isotope chemistry and its application to continental paleoclimatology
Carbonate geochemistry with emphasis on isotopic and trace elemental chemistry
Carbonate geology w/ emphasis on karst development & carbonate deposition in marine & karst systems
Carbonate diagenetic processes
Quaternary Paleoclimates
Cretaceous Paleoclimate and Paleohydrology
Experimental Carbonate Growth
Hydrocarbon Bearing Concretions in South Central Puerto Rico
Sedimentology and Diagenesis of Isla de Mona, Puerto Rico
Teaching
—
Teaching interests:
Paleoclimate
Isotope Geochemistry
Carbonate Petrography
Selected Publications
—
Kenward, P. A., R. H. Goldstein, A. E. Brookfield, L. A. González, and J. A. Roberts. "Model for How Microbial Methane Generation Can Preserve Early Porosity in Dolomite and Limestone Reservoirs." Journal Articles. AAPG Bulletin 96 (2012): 399–413. https://doi.org/10.1306/06021111020.Suarez, M. B., L. A. González, and G. A. Ludvigson. "Estimating the Oxygen Isotopic Composition of Equatorial Precipitation during the Mid-Cretaceous." Journal Articles. Journal of Sedimentary Research 80 (2010): 480–91. https://doi.org/10.2110/jsr.2010.048.
Selected Presentations
—
Montalvo, L. G., González, L. A., & Watney, W. L. (12/31/2013). Diagenesis and distribution of diagenetic facies in the Mississippian of South Central Kansas. Geological Society of America Annual Meeting