Michael Shahin
---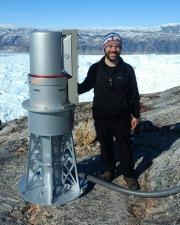 Education
—
B.S. in Geology, College of Charleston
Research
—
Applications of terrestrial laser scanners and satellite remote sensing to study iceberg calving and ice-ocean interactions.
Selected Presentations
—
2019
M. Shahin, L. A. Stearns, D.C. Finnegan, A. LeWinter, P. Gadomski, and A. Fowler. 2019. Observations of Ice-Ocean Interactions at Helheim Glacier from Two Terrestrial LiDAR Scanners. 27th IUGG General Assembly. Montreal, Canada.
Awards & Honors
—
2016 – 2018
NASA Undergraduate Research Fellowship