C P Marshall
---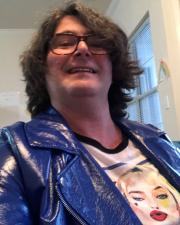 Natural Sciences and Mathematics
They/them/their
Contact Info
Ritchie Hall, room #154 C
University of Kansas
1414 Naismith Dr.
Lawrence, KS 66045
---
Biography
—
Craig Marshall, Associate Professor of Geospectroscopy, is a solid-state Raman spectroscopist, and astrobiologist. They have been involved in Raman spectroscopy of crystalline solids, and the application of Raman spectroscopy in astrobiology and planetary science research since 2002. Their interests are in Raman spectroscopy, astrobiology, and exploring the potential of Raman spectroscopy as a life detection technique, and design, fabrication, and development of spectroscopic instrumentation for life detection. They have been awarded and managed over $4 million in grants throughout their career.
Education
—
Other in Chemistry , Departments of Chemistry, Materials and Forensic Science and Geology, University of Technology, Sydney (UTS), 1997, Sydney, NSW, Australia
Ph.D. in Solid-state Chemistry , Department of Chemistry, Materials and Forensic Science, University of Technology, Sydney (UTS), 2001, Sydney, NSW, Australia
Research
—
My research program is two-fold. Firstly, I am focusing on solid-state Raman spectroscopy to better understand the Raman spectra of hematite, dolomite, and graphite. My second area of research is the development of Raman instrumentation for planetary science and astrobiology missions.
Research interests:
Raman spectroscopy
carbonaceous materials
graphite
hematite
carbonate minerals of calcite structure
astrobiology
Teaching
—
Teaching interests:
Mineralogy
Raman spectroscopy
Selected Publications
—
Emry, Juliene R, Alison Olcott Marshall, and Craig P Marshall. "Evaluating the Effects of Autofluorescence during Raman Hyperspectral Imaging." Journal Articles. Geostandards and Geoanalytical Research 40 (August 1, 2016): 29–47.